HOW ARE TINS MADE?

When a customer requires a lower volume - 3,000 to 12,000 - we composite print the tin sheet to fill the sheet with designs.
So we require customers to stick to 4 color process and gloss lacquer on the external surfaces and gold lacquer internally and on the base.
These requirements allow us to gang/print together several different designs in order to use the whole tin sheet.
Once the tin sheet has been filled with a design we print the sheets, the maximum number of color is 6, which is 4 color Process (two passes) plus 3 special color and a spot lacquer.

Once the tinplate has been printed, we cut the designs from the flat sheets and form them on production lines.

When the tins are manufactured, they are inspected, cleaned and packed before being dispatched.
TEA & COFFEE

We supply tea and coffee tins to global brands as well as private label for supermarkets. We manufacture tins for the retail sector and larger tins for the catering market. With side weld capabilities we can offer vacuum filled tins with ring pulls and lots of different shapes and sizes from 25g to 2.5kgs.
On offer, we have: screw top lids (keep fresh), clip lids, lever lids and ring pulls, we can always find a tin to suit your needs.
CONFECTIONERY TINS
This fast moving dynamic market sector requires innovation and creativity at cost effective prices. We have some of the best tool makers in the tin industry which allows us to create a unique shape that will offer a USP to your end customer.
DRINKS TINS
AIdeli partner world leading design companies and brands, developing creative and different ideas, with our comprehensive range of unique shapes, printing and lacquering techniques we can offer you a marketing edge. With demands for safe transportation and good shelf presence we have a solution for your bottle.
Tins for whisky ,tins for lip balm,tins for soup ,tins for energy drink ...etc
COSMETICS TINS

We manufacture tins for liquid fills, tinplate for petroleum based products and aluminium for water based products. We can also offer airtight screw top tins that are sealed with a compound or a wad. We decorate the tins using conventional inks or UV, depending on the application and the volume.
We offer sizes from 5ml for lip balm tins up to 120ml for wax, creams or gels.
GIFTS & PROMOTIONAL TINS
If you need to promote your company, special occasion or product, we know the work .Tin is a good way of getting your message across, as tins are usually retained and offer a premium solution. Never under estimate the potential of using a tin as a promotional tool, either empty or filled.The gift market is widespread; we manufacture tins for the pet gift market through to CD/DVD packaging. With over 300 tool shapes to choose from we have a presentation solution for your products. With manufacturing volumes from 3,000 to several million, you can start small and grow.
CHEMICAL&CAR WAX TINS

Our chemical and car wax tins are the perfect way of promoting your brand or company name .the packaging is not only functional but provides perceived added value to your product range .
We have lots of design and size for your tin. From 50ml-10L , screw top ,plastic lids etc .
Pressitin ---press it tin---press base on tin---press base with screw top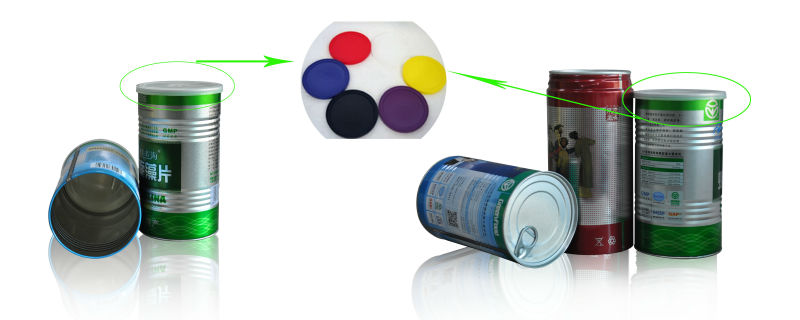 The pressitin self sealing tin has a ring pull top and self sealing bottom enabling you to seal whatever you wish securely inside the tim .
In the past, can have all been closed with a cambersome and expensive seaming machine that literally spun the can and bent the closing end over the tin to form the conventional tin can end , at last ,this can now be done by hard in one simple movement .
The product is available for filling with dry porducts or having a bag protects . all of our tins hava a food grade lacquer applied to them .
You can use these tins for packing almost anything, from boxer shorts to a box of chocolates, from a bottle of whisky to a bottle of perfume, from a cudley toy to homemade fudge or sweets. They can all be stored safely in a tin. - The uses are endless....
Stock size:Diameter 80 mm/90mm/93mm/99mm ,custom height.
Extra :colorfull plastic over cap you can chose for the pressitin.
INTERESTED
Interested in the products we make, the business opportunities we offer or the ins and outs of tin products?


Don't hesitate to contact us :
Adela dong Sales director
Mobile:+86 13715315155 Office :+86 755 89311528
Fax:+86 755 89992059 E-mail:sales@aideli-can.com
Skype:dongaijun888
QQ:1286263385
The Environment
What is tinplate, it is steel electro plated with tin to give it a reflective and printable layer. You can buy tinplate with different thickness of tin plating and different grades and tempers. We use the best materials and A grade tinplate. Tin is reusable again and again and can be 100% recyclable. Our material used in manufacture contains on average 33% recycled material, as no properties are lost in the recycling process. Recycled tins are smelted (turned in molten metal) and are used as tins again or steel for industrial or commercial use, such as the construction, fencing, and automotive industries .Tin is biodegradable and will eventually rust if kept in a damp environment or buried accidentally in a land fill site.
The nice thing about tins.
Tins are rarely thrown away and you can often find them being used over and over again in the home
as they do not easily lose their integral strength. Take a look around your home or office and you are bound to see tins used to store the odd nick knacks or food stuffs.

Aluminium is more expensive than tinplate and is valuable when recycling, we sell our scrap from production for hundreds of pounds. Like tinplate aluminium is 100% recyclable and is often reused in car parts and molded components.